Darkstalkers Chronicle: The Chaos Tower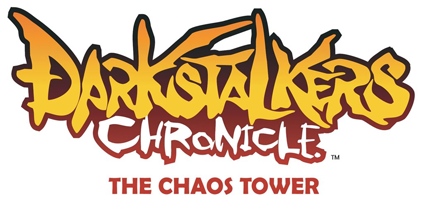 REVIEW: With Darkstalkers Chronicle, Capcom presented its first ever 2D fighter for Sony's Playstation Portable. Fans of the original will be happy to know that the PSP's wide screen nicely smoothes out the aged sprites, and also makes the amazing hand drawn backgrounds look even more intense and impressive. You also have the option to change the widescreen format and play the game with the original dimensions if you prefer.

Finally, the definitive character roster!

Chronicle is actually port of the Japan-only Dreamcast game Vampire Chronicle for Matching Service, which is a version of Vampire Savior that allows players to choose each character's fighting style from all five Darkstalkers arcade games (DarkStalkers, Night Warriors, Vampire Savior and the Japan-only Vampire Savior 2 and Vampire Hunter 2). Most importabtly, Darkstalkers Chronicle contains all of the characters from prior installments of the series (unlike the arcade version of Darkstalkers 3, which omits several characters)!

Another great feature is being able to choose how the game is played. Players can choose Darkstalkers style (Matches split into rounds), Night Warriors style (Matches split into rounds, with different gauges), or Darkstalkers 3 style (Matches split into downs). This feature, along with the great character selection and fighting style selection, already make Darkstalkers: Chronicle a must have for fans of the series.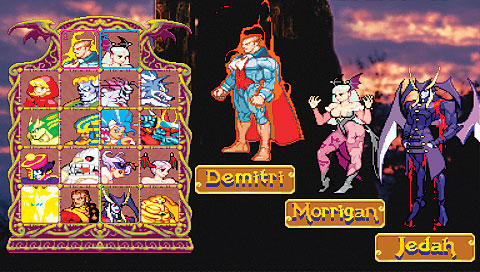 Ascend the Chaos Tower with your best team of Darkstalkers.

Chronicle even presents an entirely new mode, not found in any previous versions of Darkstalkers. The new "Tower Mode" allows players select 3 characters which they can alternate between fights to ascend up the Chaos Tower (unlocking cool content along the way). Surviving on one life bar alone, your 3 characters must climb the tower of matches and survive some tough challenges, for example: No punches, no kicks, no throws, no specials... say what?!?

Indeed it can be quite a challenge at times, especially since the difficulty becomes progressively harder. Tower Mode also lets you build up your super meter much more than in regular battles, which comes in handy!

Finally, Chronicle Mode allows you to view your unlocked content. If you were ever a fan of the artwork of Darkstalkers, this is yet another reason to own the game. The high-res artwork also looks particularly good on the PSP's sharp screen. Along with character art, you can unlock character endings from all previous installments to the series, and all of the intros from previous games as well. Awesome!!!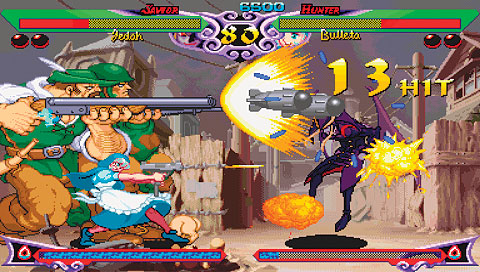 B.B. Hood has friends with guns.
Page Updated:
April 4th, 2013
Developer(s):
Capcom Production Studio 5
Publisher(s):
Capcom
Artwork by:
Bengus, Edayan, Daigo Ikeno
Platform(s):
PSP
Release Date(s):
Dec. 4th, 2004 ()
Mar. 24th, 2005 ()
Sept. 1st, 2005 ()
Characters:
Demitri, Talbain, Victor, Zabel, Morrigan, Anakaris, Felicia, Bishamon, Rikuo, Sasquatch, Donovan, Hsien-Ko, Huitzil, B. B. Hood, Q-Bee, Lilith, Pyron, Jedah

Featured Video:

Related Games:
Darkstalkers, Darkstalkers 2, Darkstalkers 3, Darkstalkers: Resurrection, Street Fighter Alpha 3: Max, Guilty Gear Judgment, Warzard, Tekken: Dark Resurrection

Gameplay Engine
8.5 / 10
Story / Theme
8.0 / 10
Overall Graphics
8.5 / 10
Animation
7.5 / 10
Music / Sound Effects
8.5 / 10
Innovation
8.0 / 10
Art Direction
9.5 / 10
Customization
7.5 / 10
Options / Extras
9.0 / 10
Intro / Presentation
9.5 / 10
Replayability / Fun
7.5 / 10
"Ouch" Factor
6.5 / 10
Characters
9.5 / 10
BOTTOM LINE

9.1 / 10

Final Words:
This portable package rekindled my love for the Darkstalkers series... it's a beautiful game all around and at its debut, was one of the best handheld fighting games to date. I had some good times with this game.

I thoroughly enjoyed the Tower Mode... very innovative, and quite a challenge. (I actually still haven't been able to beat it 100%!) All in all, some would say this is the best version of Darkstalkers to date (if you don't own Vampire Chronicle for Matching Service, like most of us). Long live Darkstalkers! ~TFG Webmaster