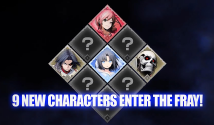 After the conclusion of EVO 2019's BlazBlue Cross Tag Battle grand finals, Arc System Works announced a "Version 2.0" of the crossover anime fighting game. New characters joining the fray include Yumi from Senran Kagura, Akatsuki and Blitztank from Akatsuki Blitzkampf, and Neo Politan from RWBY. The EVO '19 trailer shows the first gameplay of the new characters along with some new stage designs set to appear in BlazBlue Cross Tag Battle "Version 2.0". Five additional DLC fighters are planned for Version 2.0 down the road.


Version 2.0 is planned for release on November 21st, 2019. Additional details and release dates on specific systems will most likely be revealed at (or before) the ArcREVO World Tour Finals (Nov. 16-17).

Stay tuned on Fighters Generation for continued coverage of BlazBlue Cross Tag Battle.