Thursday, October 15th, 2020

Guilty Gear -Strive- Online Lobby / Avatar System Update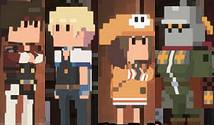 The GGStrive beta on PS4 featured a lobby system with 2D avatars... and it got mostly negative reviews. Beta participants were frustrated by long waiting times between matches and mostly put-off by the lobby's visuals. Famitsu revealed Arc System Works is keeping the lobby system for the final version, with some adjustments. As you can see from the first Famitsu scan (below), GGStrive's main characters will appear as avatars in the online lobbies in some form and will have customization options. Online mode will also NOT have a staple "Ranked mode" like most fighting games, but will feature the "skill floor" system (introduced in the beta) - where players can choose to be divided by skill level (and gain access to higher floors by winning matches).


Famitsu had a short interview with Akira Katano from Arc System Works, who spoke about the online lobbies returning from the beta. Katano-san stated, "There is a clear split between pros and cons from existing fans in regards to the system reform; that left quite the impression." He continued, "We're thinking of a structure that didn't exist in the series until now, where you can enter online battles without any stress or worry about points."

Additionally, the PS5 version will have an exclusive Special Battle Mode with a "Tag Team" or "Assist" feature. Specific details regarding this mode are currently mysterious... but stay tuned for further information.


Official Box Artwork was also released in high quality.

Check out the PS5 box art.

Once again, the

Deluxe / Ultimate editions of GGStrive release April 6th, 2021. The Standard edition will release worldwide 3 days later on April 9th.


Below, a preview of one of Sol's Extra colors... based on Ky.

Read full details on the Deluxe and Ultimate editions at this link.
Sources: Famitsu, ArcSystemWorks (Twitter)
RELATED NEWS | OCTOBER 11TH, 2020
Giovanna Revealed for Guilty Gear -STRIVE-

Arc System Works has revealed a brand new character for Guilty Gear -STRIVE- named Giovanna. We've got Giovanna's reveal trailer and official character artwork so you can take a closer look at her design! Season Pass 1 was also announced which will include 5 new characters, extra colors, 2 new stages, and extra story content.

Related News: (10-15-2020): Guilty Gear -STRIVE- PS5 Box Art,
(10-12-2020): Guilty Gear Strive DELUXE and ULTIMATE Editions,
(9-30-2020): Guilty Gear x KOF is Happening in KOF '98 UM OL,
(9-17-2020): PlayStation 5 Has 4 USB Ports, Launch Price + Accessories,
(9-8-2020): Guilty Gear -STRIVE- Developers Backyard #3,
(7-31-2020): Nagoriyuki & Leo Whitefang Revealed for GGStrive,
(6-23-2020): Guilty Gear -STRIVE- Zato-1 & Millia Gameplay
Related TFG Links: Guilty Gear -STRIVE-, Ky Kiske, Sol-Badguy | TFG NEWS

✔ FOLLOW FIGHTERSGEN ON: