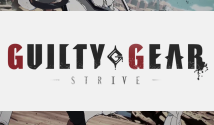 During the ArcRevo America World Tour on Sunday, Arc System Works finally revealed the official title for the new installment of Guilty Gear coming 2020. Guilty Gear -STRIVE- is set to reenergize the series with enticing new 2.5D visuals, a gameplay engine overhaul, redesigned returning veterans, and exciting newcomers we're anxious to learn more about. It's also worth pointing out that IV is cleverly hidden within the Guilty Gear -STRIVE- logo, implying that Arc System Works considers this to be the fourth X series installment (after X, XX, and Xrd) and/or fourth main series game (after 1, 2, and 3). The first official trailer for Guilty Gear Strive (below) runs through all returning veterans we know about so far... and teases the return of Faust. Check it out below!


The next reveal trailer for GGStrive will debut at Frosty Faustings, Jan. 17-18, 2020.

Also check out TFG's newly created Guilty Gear -STRIVE- profile.

And stay right here on Fighters Generation for Guilty Gear Strive news!