Tuesday, October 13th, 2020

UFC Fighter Joaquin Buckley Pulls Off Incredible K.O. Kick, Reminiscent of TEKKEN's Lee Chaolan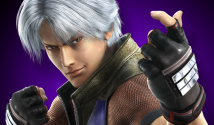 "That move wouldn't work in real life." ... "That kick isn't humanly possible." (Someone tell that guy to shut it.)

Over the weekend at UFC Fight Island 5, middleweight Joaquin Buckley delivered one of the most impressive knockouts in MMA history. In the second round of what had been a mostly even contest, opponent Impa Kasanganay caught Buckley's roundhouse kick to the body. Thinking quickly on his feet, Buckley answered with a spinning kick to the head while balancing on his other leg... Lee Chaolan style. If Mr. Chaolan himself was watching from his VIP room, he'd have only one word to describe Buckley's highlight reel knockout... EXCELLENT!

Any Lee main worth his salt will immediately recognize this kick technique from Lee's moveset — which Buckley perfected to a T. This K.O. clip (which has now gone viral) compares Buckley's kick side by side with Chaolan's from TEKKEN 7, and even got the attention of the official TEKKEN Twitter.

Keep it here on Fighters Gen for TEKKEN content! ~TFG Webmaster / Frank Joseph

Source: Tekken (Twitter)
RELATED NEWS | September 28th, 2020
TEKKEN 7 Sells Over 6 Million Copies Worldwide, New Illustration by Takuji Kawano

During the reveal of Kunimitsu joining Season 4, Harada-san and Michael Murray announced TEKKEN 7 has now sold over 6 million copies since launch in 2017. Through the game's widespread success in the competitive scene and at esports events worldwide, TEKKEN 7 far succeeded its original sales expectations, selling even more copies in 2018 and 2019.

Related News: (9-29-2020): TEKKEN 7 Kunimitsu HD Screenshots, Retro Costume,
(9-28-2020): TEKKEN 7 Kunimitsu Character Renders / Artwork,
(9-28-2020): TEKKEN 7 Kunimitsu Reveal Trailer, New Season 4 Details,
(9-25-2020): TGS 2020: "Virtua Fighter x esports" Teaser Trailer,
(8-18-2020): TEKKEN 7 August 2020 Full Patch Notes,
(7-31-2020): TEKKEN 7 Season 4 Announced, Reveal Trailer
Related TFG Links: TEKKEN 7, Lee Chaolan | TFG NEWS

✔ FOLLOW FIGHTERSGEN ON: