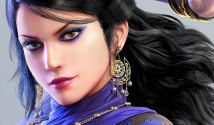 Today, Bandai Namco dropped a new trailer for TEKKEN 7 Season 3 and released the full patch notes. Newly announced features of Season 3 include: Play Stats feature, new pre-set slots for special costumes on the Character Select screen, updated UI, and more. TEKKEN players will definitely want to take a close/early look at the Update 3.0 patch notes and balances changes coming in Season 3... as character changes are major across the board - with all characters receiving new moves, buffs/nerfs, hit effect alterations, etc.

[UPDATE] Ver. 3.00 is now available for download in North America. Zafina will be released on September 10th. Leroy Smith's debut will follow later this year. Enjoy the full launch trailer from Bandai Namco, below.


Read up on the official patch notes over at TekkenWorldTour.com.

Stay right here on FightersGeneration.com for TEKKEN 7 Season 3 news.