POSTED: Wednesday, August 17th, 2016 (8-18-2016)

Injustice 2 Harley Quinn & Deadshot Gameplay Reveal Trailer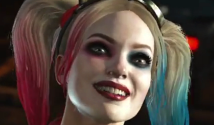 NetherRealm Studios dropped the latest Injustice 2 trailer at Germany's Gamescom 2016. Two of the "worst heroes ever" make their way to Injustice 2: Harley Quinn and Deadshot. The new gameplay trailer introduces Harley's trusty sidekicks, and some of her new tricks. The expert marksman and assassin known as Deadshot also makes his fighting game debut one of the deadliest villains to inhabit Gotham City. [UPDATE] Added 17-minute gameplay video featuring Harley Quinn, Blue Beetle & Wonder Woman.



Injustice 2 will be released on Playstation 4 and Xbox One in 2017.

Source: InjusticeGame, IGN
Related News: NEWS (7-22-2016): Injustice 2 & Blue Beetle Gameplay Reveal Trailer,
NEWS (6-16-2016): Injustice 2 Character Intros, Supers & Stage Transitions,
NEWS (6-14-2016): E3 '16 Injustice 2 Gameplay, Clash System Returns,
NEWS (6-11-2016): Injustice 2 Gameplay Reveal Trailer,
NEWS (6-8-2016): Injustice 2 Announced For PS4/XB1 in 2017, First Details
Related TFG Links: Injustice 2, Injustice: Gods Among Us, MKX, Harley Quinn
.