>
Tuesday, December 20th, 2016

Killer Instinct Kilgore Reveal & Gameplay, 3.6 Patch Notes Video, More New Characters Coming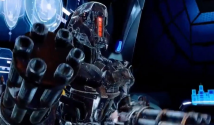 Killer Instinct Season 3 will be receiving some major updates, including a brand new character named "Kilgore". Kilgore will be the first of several new characters coming to the title. Check out Kilgore's reveal trailer along with some gameplay footage, and see what's new in patch 3.6, which will be released today. Also see the latest colors and a new Chief Thunder costume being added to the game for free.

Kilgore's reveal is seen at 1:07 in the patch notes video (below), followed by some additional gameplay videos.



You can read the full patch notes over at Ultra-Combo.com.

.