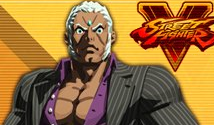 As 2016 comes to a close, enjoy this roundup of Street Fighter V concept artwork and official CFN Portal bios released throughout December '16. This batch of concept art features the likes of Oni Akuma, the "fatty" bad guys from the 1989's Final Fight (plus Slash), Mech Zangief, Juri Han, Urien, and several unique concept artworks for SFV's latest playable character, Akuma! Enjoy all of the new December 2016 SFV concept artwork & bios below, beginning with Oni Akuma. [UPDATE] Added Mech. Zangief bio.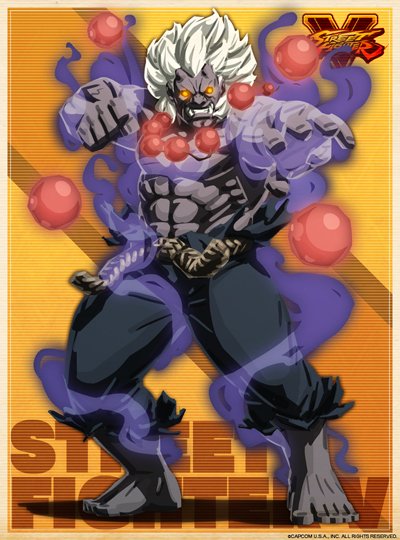 Name: Oni
Height: Unknown
Weight: Unknown
Blood type: Unknown
BVirthday: Unknown
Country of origin: Unknown
Likes: Unknown
Dislikes: Unknown

Intro: Scaaaary! This is Akuma after getting further connected with the Satsui no Hado.

Bio: He's forfeit both his human emotions and his very body, and is a demon who only exists for battle. The Satsui no Hado constantly oozes from his body. He uses wild moves like Rakan Dantojin and Sekisei Jiraiken to strike down his opponents. His improved physique makes him more durable, too.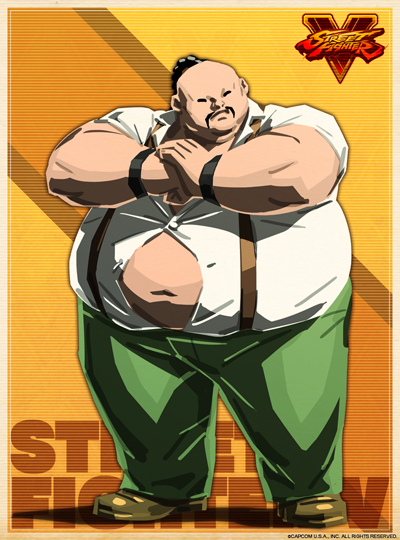 Name: Wong Who
Height: 191cm
Weight: 214kg
Blood type: O
Birthday: 8th of March
Country of origin: U.S.A.
Likes: Fried foods, all types of sweets
Dislikes: Unnecessary effort

Intro: I think there are an incredible amount of people who got done in by his off-screen charging headbutt. The "dundundundun" sound as he's coming towards you is scary.

Bio: The giant who keeps watch around Metro City's harbor area. He's in charge of weapons smuggling. He has a large tattoo of a tiger on his back. He apparently has a relative who works with the Chinese drug trade who can spew poisonous gas at his opponents.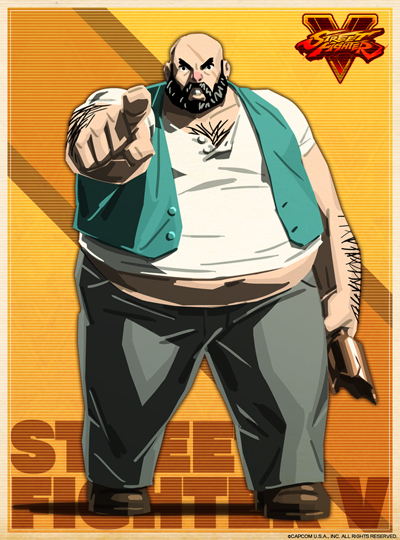 Name: Bill Bull
Height: 195cm
Weight: 212kg
Blood type: B
Birthday: 2nd of April
Country of origin: U.S.A.
Likes: Original cocktails, watching baseballs
Dislikes: Exercise

Intro: He's one of the charging headbutt men. He sometimes lets out a powerful forward kick as well. He drinks and goes wild, breaking bear bottles. Scary, scary.

Bio: He's famous for liking cocktails containing sauces, soy sauce, mustard, raayu, dressing and all kinds of strange things. Lately, he's apparently been adding honey and enjoying the strange consistency it brings. He was on a diet for a while, but it didn't last long.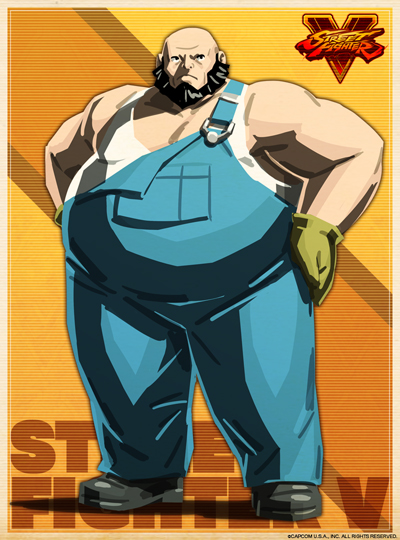 Name: G. Oriber
Height: 191cm
Weight: 209kg
Blood type: A
Birthday: 4th of September
Country of origin: U.S.A.
Likes: Hamburgers, greasy things
Dislikes: Police

Intro: He's the last of the charging headbutt men. He's the fastest walker of them all. Or at least, he thinks so himself.

Bio: He's full of confidence and always domineers. He's very proud of his sideburns and never neglects trimming them. He never uses an electric shaver, and is very particular about using a blade to trim them. The G stands for Graham.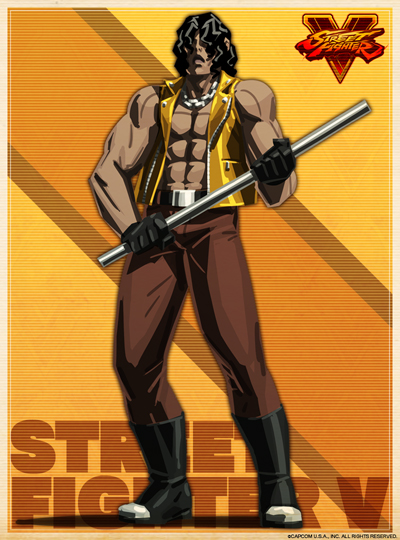 Name: Slash
Height: 196cm
Weight: 97kg
Blood type: B
Birthday: 6th of February
Country of origin: England
Likes: Cars, sports games
Dislikes: Noisy people

Intro: His hair has grown a bit, huh? He uses any weapon he can find nearby. He hates losing.

Bio: He really thinks of himself as a pro. He's the kind of guy who garners respect from all of the Mad Gear gang. He's a man of few words, almost giving off a shy vibe, but when he's playing games, he's extremely animated. He likes watching soccer (but he doesn't like playing it).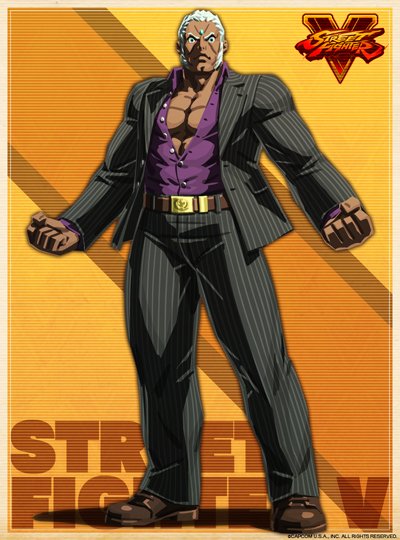 Name: Urien
Origin: Street Fighter III: 2nd Impact

This concept artwork resembles Urien's final SFV default costume.
Name: Juri Han
Origin: Super Street Fighter IV

This appears to be Juri Han's "final" costume concept artwork. No additional CFN Portal information is currently available.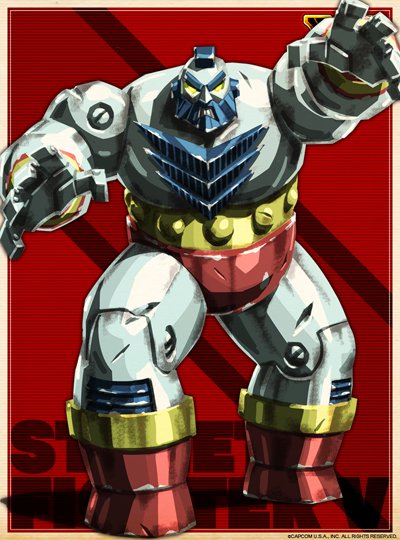 Name: P Mecha Zangi F
Height: 214,1cm
Weight: 1810kg
Blood type: Vodka
Construction date: 1st of June
Place of origin: Shadaloo-made
Likes: Spinning
Dislikes: Anyway, it's fireballs

Intro: P stands for Prototype. He's a Shadaloo prototype robot made by combining a Monitor Cyborg with anti-Zangief technology. With his metal body, he's learned a whole bunch of different grappling moves.

Bio: His shining grey body is made out of L Ceramic Titanium and repels any kinds of attack... was the plan, anyway. The vodka running through his body to fuel him is used to unleash his special move, the extremely high temperature blue flame, Vodka Fire. Because of outdated information, he does not have any emitter on his hands for Banishing Energy.

The later version of the Mecha Zangi F had many more features added. At the moment, the development which is being overseen by Master F.A.N.G is on the Mecha Zangi F Mark 3! (All of this takes place in an alternate universe).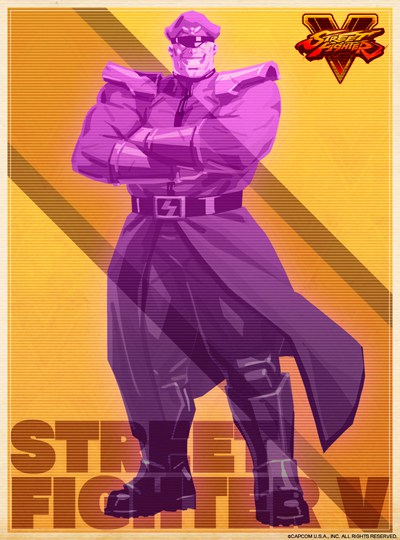 Name: Phantom M. Bison
Height: About 182cm
Weight: Unknown
Blood type: Unknown
Birthday: Unknown
Country of origin: Unknown
Likes: World domination
Dislikes: Weaklings, incompetent underlings

Intro: Finally, our 200th profile. I never thought we'd go on for this long. For the special occasion of 200, of course it must be Master Bison... Um, doesn't he look a bit transparent? Is he OK?

Bio: A certain version of M. Bison that fit perfectly for this special number. Even with his body gone, his power and will remain. Why did he become this way? Well, play through the general story mode in Street Fighter 5. Even in this state, he still states he likes world domination and dislikes weaklings and incompetent underlings - such rudeness! It's shocking, it's beyond admirable!

Additionally, Capcom's CFN Portal unveiled these Street Fighter V concept artworks for the latest character to be added to the game, Akuma. Each Akuma concept (below) is different and their descriptions by Director Nakayama are provided under the artwork.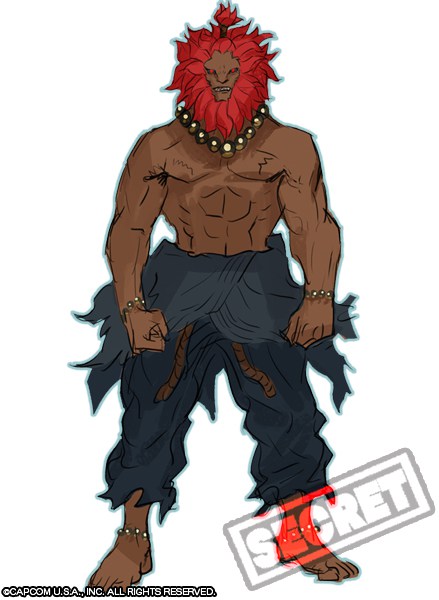 AKUMA - "NAKED UPPER BODY VERSION"

Director Nakayama:
Although the Raging Demon has finally been released, his appearance has been redesigned. Here are some of the rough pictures drawn when we were introducing his new design.

Director Nakayama: His waist is a bit slim. The gi and wild beard are close to what we adopted.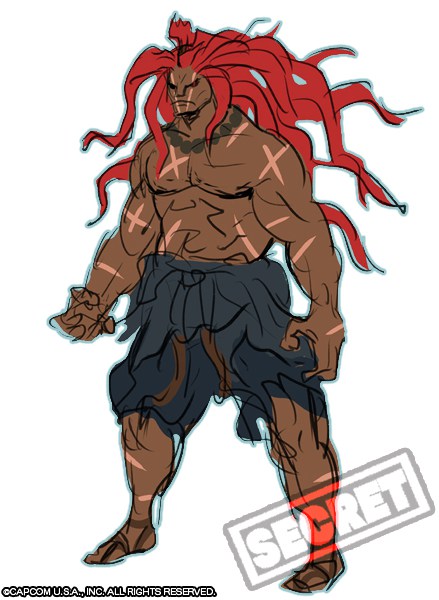 AKUMA - "SOUTH AMERICAN DEMON VERSION"

Director Nakayama:
If you came back to South America and lived there for life, there is exactly such as guy, and it is a Mad Demon that cannot come out to appear.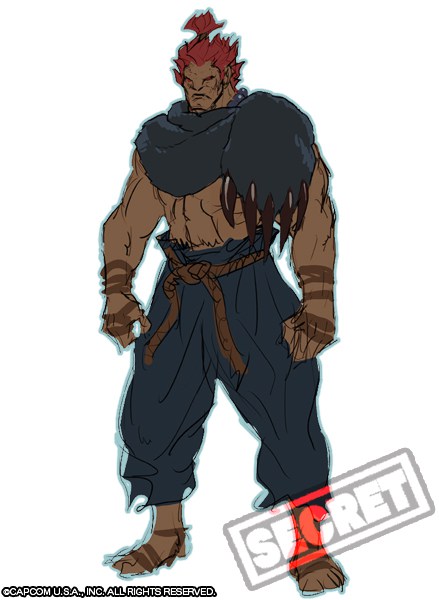 AKUMA - "IS IT HOT OR COLD? VERSION"

Director Nakayama:
He was thrown away because his coat was gloomy. Since he was attacked by a bear when it became a little chilly, he defeated it and made it into a scarf.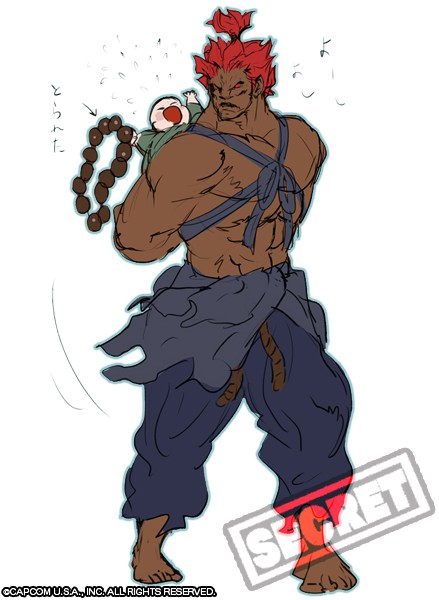 AKUMA - "I PICKED UP A BABY VERSION"

Director Nakayama:
His V-Trigger rocks the baby to sleep. By doing so, you can demonstrate his original power. He never comes down from his back. A baby can appear as "a character brought up by a Mad Demon" in a few years. It's a super delicious setting.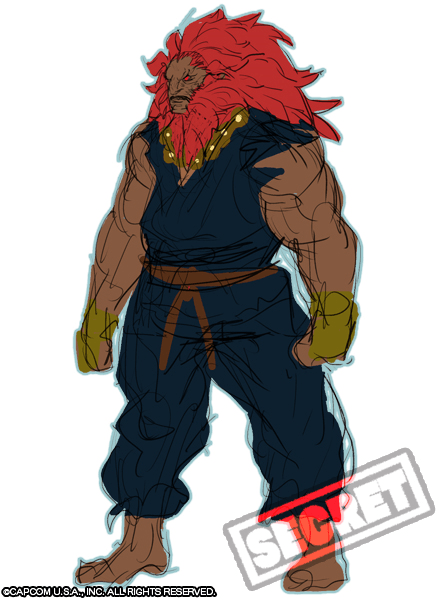 AKUMA - "ALMOST COMPLETED VERSION"

Director Nakayama:
There is nothing, it is almost a finished version of the Raging Demon. Actually, it is almost what I drew up in a meeting for the first time. In other words, while keeping the designs of past works as well, I tried and tried to make a new Demon. The baby's topic is fine. The development members were also hit by the loveliness of Ako. Please look forward to next time.

✔Also visit TFG's exclusive SFV concept artwork gallery to see all previously released concept artworks in one convenient place (updated almost daily throughout the past few months)!