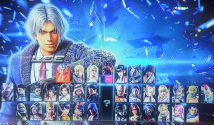 The TEKKEN community is getting hype about a "new build" of the console (PS4) version of TEKKEN 7, which was shown at Bandai Namco's Thank You Festival at KINTEX in South Korea. The new build features 2 new stages, Miguel and Lee Chaolan/Violet as playable characters, and is said to have improved graphics. There's also a short video clip showing Lee Chaolan's Rage Art for the first time... and it's pretty epic!



First, take a look at the updated character selection screen. You can see Lee and Miguel's character slots on the top row (and yes, there's still plenty of room for more characters). It was also confirmed that Kuma & Panda will each have their own selection slots.


In the next image, you can see a new costume selection process (not appearing in the Arcade version at all). Similar to TTT2, this allows to quickly choose Player-1 / Player-2 colors for both default character costumes (vanilla T7 and T7: FR costumes). In Lee's case, you can select Lee Chaolan or Violet palettes.


Next check out some gameplay videos and clips of some Korean players trying out Lee Chaolan in TEKKEN 7 for the first time. Also... have a glimpse of Lee's Rage Art.


The new Archers of Sirius Headquarters stage (Claudio's stage) is officially called "Duomo di Sirio," which means "Cathedral of Syrian". The other new stage (previously seen in Kid Kazuya's story battle screenshot) is called "Precipice of Fate".

✔ This article will be updated if new gameplay footage or details become available within the next few days. And if you haven't been following the latest TEKKEN 7 news, you definitely shouldn't miss seeing the 70 new screenshots of brand new customizations added to the game this month!