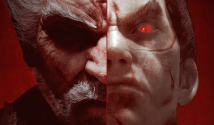 On Nov. 9th, the North American King of Iron Fist 2016 tournament concluded with top players taking home 1000's of dollars in cash. The matches were definitely hype, and the full stream archive of the finals is now available. Bandai Namco didn't reveal any new characters after the tournament, but they did mention new character reveals are coming soon. To recap, lets review the most recent character trailers...

Miguel was announced October 8th.
Lee Chaolan / Violet were announced August 17th.
Master Raven and Bob were announced July 17th.


Who's next? .... Fan-favorites such as Lei Wulong, Anna Williams, Kuma, Jun Kazama, Kunimitsu, and Armor King have yet to be confirmed for TEKKEN 7. If one of those veterans aren't next in line, could the next reveal be yet another newcomer (bringing TEKKEN 7's newcomer count to a whopping "10")? We'll find out soon, as Bandai Namco promises "many updates" to the 2017 console version (over the current arcade version).

To hold you over, here's the LINK to the Twitch stream archive of the TEKKEN 7: Fated Retribution North American KOIF 2016 finals. Just in case you haven't seen the finale, I won't spoil who takes 1st, 2nd, and 3rd.

Enjoy the epic fights!

TEKKEN 7's release window is still "Early 2017" and is coming out on Playstation 4, Xbox One, and PC. Bandai Namco has yet to announce a final release date. Stay tuned on FightersGeneration.com for the latest TEKKEN 7 news and details!