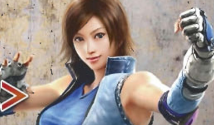 Well, it's not even "Day 2" yet and TFG's first report on TEKKEN 7's Japan location test is already filled to the brim. Ready for more gameplay?!? Along with a slew of new gameplay clips (and expecting more soon), let's take a closer look at some of TEKKEN 7's Rage Arts!


Below, check out a couple gifs and videos of "Rage Arts" performed by various characters. As you might be able to tell, Rage Arts are comparable to super moves from the likes of Street Fighter 4 or Soul Calibur 5, activating slow-motion and dramatic camera angles. As previously reported, Rage Arts can only be activated when a character's health is low (and is in Rage Mode).


Next, several images of "classic" character customization items have also surfaced. Returning players will remember some of these items from TEKKEN 5, TEKKEN 6 & TTT2. Whether or not these items will have in-game functionality is unclear... (but I'd bet Asuka can probably swing that giant hammer if she wants to).


Regarding the current state of TEKKEN 7's graphics quality, producer Harada restated on Twitter that the graphics engine is currently at 60%. Harada clarified that the early build has no character lighting, and skin shaders & texture qualities (among other elements) will be greatly improved once the team implements Unreal Engine 4.

Stay tuned, as this article will be updated with new content later today. And make sure you didn't miss out on any of the footage or details from TFG's earlier report! For your convenience, here are the latest details on TEKKEN 7's new systems and other changes.

TFG's Coverage of the TEKKEN 7 Location Test Continues in (DAY 2)