Friday, March 17th, 2018

BlazBlue Cross Tag Battle Adds Jubei, Aigis & Carmine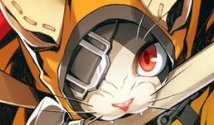 Arc System Works confirmed three more characters for BlazBlue Cross Tag Battle today. The 2D crossover fighter adds Jubei from BlazBlue: Central Fiction, Aigis from Persona 4 Arena, and Carmine from Under Night In-Birth. As usual, Arc System Works uploaded a short trailer showing all three characters in action.



Stay tuned on FightersGeneration.com for continued coverage of BlazBlue Cross Tag Battle. This title will be one of the main games appearing at EVO 2018.

Source: ArcSystemWorks
Related News: (2-27-2018): BBTAG Screenshots Preview Game Modes, UNIEL English Dubs,
(2-15-2018): Kanji, Orie & Platinum Join BlazBlue Tag, DLC Pricing Details,
(1-18-2018): BlazBlue Cross Tag Battle Release Date, Blake Belladonna Trailer,
(12-16-2017): BlazBlue Cross Tag Battle Adds Iron Tager, Makoto, V-13 & Es,
(11-17-2017): BlazBlue Cross Tag Battle Adds Yukiko, Azrael & Gordeau
Related TFG Links: Blazblue Cross Tag Battle, Jubei, Aigis, Carmine

Visit SHOP TFG to check out
awesome and rare fighting
game items for sale on FightersGeneration.com!

*NEW ITEMS ADDED*
JAN 9th, 2018!

✔ FOLLOW FIGHTERSGEN ON:





.