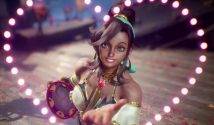 Whether you just recently picked up Fighting EX Layer, or if you've owned it since day one, you should be excited about Arika's exciting updates planned for the game. Classic Street Fighter EX series icons, Vulcano Rosso and Pullum Purna, will soon be added to the game as free DLC. To hype up their arrival, Arika uploaded 2 new videos on YouTube showing both characters in gameplay.


And in case you've been living under a rock (howard?) and didn't hear the amazing EVO '18 announcement... Terry Bogard himself is headed to Fighting EX Layer. Get hype.

Stay tuned on FightersGeneration.com for continued coverage of Fighting EX Layer.