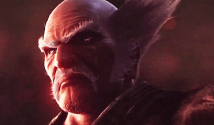 Japanese voice actor Unshō Ishizuka, known for his many roles in video games and anime series, has passed away. Ishizuka replaced Daisuke Gōri as the voice of Heihachi Mishima, who also passed away in 2010. Besides Heihachi, in the fighting game universe, Ishizuka voiced Guile in Capcom VS SNK 2 / Capcom Fighting Evolution, Joseph Joestar in JoJo's Bizarre Adventure, and Brad Wong in Dead or Alive.

Ishizuka is perhaps best known for voicing anime characters such as Mr. Satan from Dragon Ball, Professor Oak in the Pokemon TV series, old Joseph Joestar in JoJo's Bizarre Adventure, and Zabuza Momochi from Naruto. Ishizuka also voiced Blanka in Street Fighter: The Animated Movie (1994), Wolf Hawkfield in the Virtua Fighter anime adaptation (1995), and of course, Heihachi in TEKKEN: Blood Vengeance (2011).


Unshō Ishizuka (born Yukinori Ishizuka) died at the age of 68 due to esophagus cancer. Rest in peace, warrior.