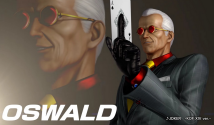 At EVO Japan, SNK confirmed that Oswald will be joining The King of Fighters XIV as a new DLC fighter. Oswald originated in KOF XI - previously his one and only fighting game appearance. The reveal trailer for Oswald shows off the playing card-slinging hitman in 60fps gameplay, and KOF XI fans will be glad to know he retains many of his classic attacks.


SNK also confirmed that 3 additional new characters will be joining the KOF XIV this year by releasing yet another "silhouette" teaser image (below). Remember that SNK previously announced a new Saudi Arabian female character designed by a fan - and apparently her name is "Najd". (It's likely she is one of the new characters appearing in the image below.)


Stay tuned on FightersGeneration.com for full continued coverage of KOF 14.