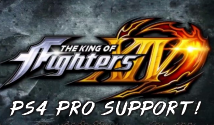 If you're a PS4 Pro owner, pop in that copy of King of Fighters XIV for further graphical improvements after updating to Version 1.10!

Indeed, KOF XIV is officially the first fighting game to feature PS4 Pro Support. While the specifics of the PS4 Pro enhancements aren't fully detailed, SNK Corporation confirmed PS4 Pro Support in their full patch notes for Ver. 1.10. Here's the link to SNK's full English patch notes (PDF file) for Version 1.10. Below is the excerpt that lists the Playstation 4 Pro graphic improvements.


This article will be updated if and when more details on PS4 Pro enhancements for KOF XIV become available. Until then, here are my early impressions of The King of Fighters XIV running on PS4 Pro.

✔
TFG Webmaster Comment:
I adopted a PS4 Pro on Cyber Monday 2016 (scoring it for a reasonably discounted $339). The enhancements to games such as Final Fantasy XV and Uncharted 4 are very very noticeable, if not breathtaking, when running in 4K with HDR turned on. After personally comparing KOF XIV's graphics on vanilla PS4 with the game running on PS4 Pro, I can say that the improvements are more subtle than the games previously mentioned... but they're there.

Overall, the resolution seems cleaner and better suited for a 4K TV. Something about the colors, the crispness of the backgrounds, and the character models (with their new and improved shaders & textures) seem to "pop" just a bit more on PS4 Pro. No, it's not a "total makeover" on Pro, and since the game looks significantly improved on both PS4 and PS4 Pro after the Version 1.10 update, it's difficult to decipher all the subtle differences on "Day 1". On that note, it'd be interesting seeing a proper comparison video...

Anyhow, I did take these screen captures via PS4 Pro for quick reference. The screenshots below are unedited and in their original resolution (click thumbnail for full size).


Once again... CONGRATULATIONS and THANK YOU to SNK for releasing such a hearty free update for The King of Fighters XIV. This is the type of passionate game development we as gamers should praise, folks. ~TFG Webmaster


And yes, I will soon be updating TFG's full review of The King of Fighters XIV to reflect version 1.10's upgrades.

(I recently did the same for SFV's updates.)

[UPDATE] In related news, a bug has been discovered in the version 1.10 resulting in possible disconnections from online battles. Thankfully, SNK is already working on a fix. Below is SNK's official statement on the matter:

There is an issue where the game will consider the player to have disconnected from an online battle if they change the display settings for "Icon", "Title" or "Rank Match Fight Record" on "MY PROFILE" screen.

We are currently looking into it and hope to have a fix as soon as possible. Because this will affect win rates and disconnect penalties, please refrain from making any changes on the "MY PROFILE" screen.

We are also investigating into any other issues with this patch and will notify everyone once our investigation is complete.
We apologize for any inconvenience and ask for your patience as we prepare another patch to solve these issues.

(Source: KOF World (Facebook))