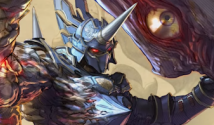 Critical Edge super moves in SoulCalibur VI were designed to give beginner / casual players a "chance" against the high-execution and speedy movement techniques of high-level / veteran players. Critical Edges are super-easy to connect and some can even hit anywhere on screen, so learning how to defend against them is imperative to your success and overall enjoyment of SC6. YouTuber Scallywag 93 put together this handy video guide (below) teaching you how to defend and punish every Critical Edge in the game.


Even if you don't study frame data, simply watching this video (even one time through) will help you not to get hit by Critical Edges... and not let them go unpunished.

As a competitive SC6 player, I'd also like to offer a few very basic tips on the subject of Critical Edges:

✔ TFG TIPS
Patience is key.
Always keep your eye on your opponent's meter.
Don't forget you can Guard Impact or Reversal Edge against Critical Edges.
If you're fighting against a player who seems overly-aggressive or "desperate"... expect a Critical Edge when they have enough meter. Bait out or wait out their Critical Edge then whiff punish or Guard and punish.
If your opponent has 2 meters, DO NOT put it past them to use 2 Critical Edges in succession if their first one whiffs.
Save your own meter. Don't spend meter if you think you can win a round without it.
Learn which Critical Edges are unblockable and need to be crouched (like Kilik's and Astaroth's). If your opponent builds meter and suddenly runs towards you, put 2 and 2 together and get ready to crouch.
Learn which Critical Edge moves can be sidestepped and use Practice mode to experiment.
Stop creating silly characters in Creation and spend more time in Practice Mode while you wait for Ranked Matches.
Did I mention Practice Mode? :)

Stay tuned on FightersGeneration.com for full coverage and new content for SoulCalibur VI.