Thursday, May 31st, 2018

Maxi Revealed for Soul Calibur VI, Gameplay Trailer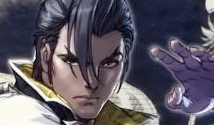 Another fan-favorite veteran has been confirmed for Soul Calibur VI. Bandai Namco uploaded Maxi's reveal trailer early this morning! The iconic Nunchaku-slinger is back in action yet again, showing off some new and old techniques to style on his opponents. [UPDATE] Maxi's HD character artwork (drawn by the legendary Takuji Kawano) and 14 official HD screenshots were added below! Soul Calibur VI continues to look promising on all levels.


Below are the first details on Maxi's story in Soul Calibur 6.

Maxiís father had worked in the Ryukyu Kingdom as a merchant. Though fortunate enough to experience different cultures from his trade, he felt tied down by his job. On his deathbed, he told Maxi to go out and see the world. Deciding to live by these words, Maxi set out to seek total freedom. He found this out at sea where he became a pirate to see the world his father couldnít.

Maxiís weapon is a nunchaku which is extremely difficult to wield. It will give a rain of pain to the opponent but only if you know how to handle it!

Stay tuned on FightersGeneration.com for full coverage of Soul Calibur 6.


Visit SHOP TFG to check out
awesome and rare fighting
game items for sale on FightersGeneration.com!

*NEW ITEMS ADDED*
MAY 15th, 2018!

✔ FOLLOW FIGHTERSGEN ON:





.