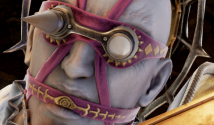 This morning, IGN posted several Soul Calibur VI videos from San Diego Comic-Con 2018. The new gameplay videos show us tons of footage of returning series veteran, Voldo, who was just announced yesterday. We also get to have a closer look at other recently revealed characters, Talim and Yoshimitsu, in some pretty solid match videos! IGN also posted a "full character breakdown" video for Voldo. Enjoy all of the new content, below!


*Worth noting in the character breakdown video (directly above), the inclusion of Alternate Costumes for characters and Customization Mode are mentioned and confirmed by Bandai Namco's Mark Religioso. However, Mark said that he can't give any details regarding those features just yet.

Visit TFG's previous article to see Voldo's reveal trailer, official character art, HD screenshots & bio. Soul Calibur VI releases Oct. 19th, 2018 on PS4, XB1 and PC.