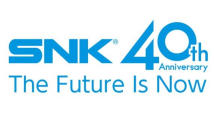 Today, SNK announced they are currently working on a new hardware to celebrate the company's 40th anniversary. This new device will feature a collection of classic NeoGeo titles. SNK specifically mentioned that the following series will be supported for the new hardware: Fatal Fury, Samurai Shodown, The King of Fighters, and Metal Slug (in addition to others). SNK mentioned this project is fueled with gratitude as SNK wants to thank fans who have supported the works of SNK over the years.


SNK Japan posted the above image on Twitter and asked fans to "stay tuned". We'll keep you updated once we know more about this project.

In related news, SNK is also releasing a 40th Anniversary Collection for Nintendo Switch in 2018. This compilation package will feature a collection of retro SNK games, including: Alpha Mission, Ikari Warriors, Psycho Soldier, Street Smart, Vanguard, Victory Road, P.O.W. & more.


You can visit the official website for the game here.

As always, stay tuned on FightersGeneration.com for future SNK news!