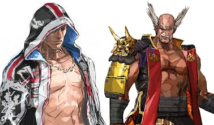 Bandai Namco recently released some brand new TEKKEN 7: Fated Retribution concept artwork. The new artwork includes characters such as: Master Raven, Steve Fox, Heihachi, Jin, Leo, Lili, Dragunov, Gigas, Hwoarang, and Ling Xiaoyu. Also check out some new higher quality concept artwork of Kazuchika Okada's NJPW ring attire for King!



Next, here are higher quality images of the Kazuchika Okada ring attire for King. These were designed by Takuji Kawano (famed for his work on the Soul Calibur series). Fun Fact: NJPW champion Kazuchika Okada recently wore this very costume in real life during a wrestling match.


The next 3 concept artworks may look familiar, but these images reveal new details and sketches not seen in the earlier renditions.


✔ Here on Fighters Generation, you can check out all previously released TEKKEN 7 "concept artwork" over at TFG's concept art gallery. TFG also proudly hosts TEKKEN 7 character artwork and character renders galleries!