Sunday, February 12th, 2017

IGN Video Shows How Nobi Made a Career of TEKKEN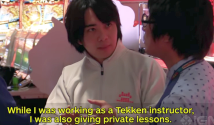 Daichi "NOBI" Nakayama is a multi-time TEKKEN world champion. A new 3-minute video by IGN reveals how Nobi got into the series, and how playing TEKKEN in Japan's arcade scene affected his life in middle school and high school. After his continued success at major tournaments such as EVO, Nobi became a TEKKEN instructor in Japan and has taught over 1000 people the science of TEKKEN.

Source: IGN
Related News: (2-6-2017): HORI to Release PS4/PC and XB1/PC TEKKEN 7 Fightsticks,
(1-30-2017): Inside the Development of TEKKEN 7 (IGN Video),
(1-27-2017): Check Out Some New TEKKEN 7: Fated Retribution Concept Art,
(1-25-2017): Harada Explains TEKKEN 7 Season Pass, 1 Year of Post Launch Support,
(1-25-2017): TEKKEN 7 Eliza Gameplay Reveal Trailer,
(1-23-2017): TEKKEN 7 Story Trailer, Collectors Edition, Release Date, etc.,
(1-3-2017): New TEKKEN 7 Trailer Confirms Bullet Club Shirts & Special King Rage Art
Related TFG Links: TEKKEN 7, TEKKEN 7: Fated Retribution, Dragunov

Visit SHOP TFG to check out
awesome and rare fighting
game items for sale on FightersGeneration.com!

*NEW ITEMS ADDED*
MAY 16th, 2017!

✔FOLLOW FIGHTERS GENERATION ON:





.