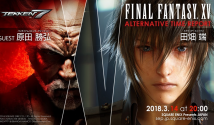 Bandai Namco and Square Enix just announced a special broadcast called "Alternative Time Report" which will air on March 14th (8pm Japan Time). TEKKEN 7 producer Katsuhiro Harada and Final Fantasy XV director Hijame Tabata will be present during the livestream and will reveal some kind of new information about both games. It's been confirmed that the latest info regarding Noctis's upcoming TEKKEN 7 appearance will be unveiled during the broadcast, so new gameplay footage and a release date is likely to be shown. Below is a link to the official Youtube stream which will go live on March 14th.


[UPDATE] Noctis and his Hammerhead stage will join TEKKEN 7 as DLC on March 20th. In addition, a new Noctis gameplay trailer confirms he will have a variety of alternate costumes. Noctis even has a brand new costume called "Fighting King's Raiment" which was designed by the TEKKEN Team. The Noctis DLC is included in the TEKKEN 7 Season Pass and can also be bought separately for $7.99 on PS4, Steam, and Xbox One.


Stay tuned on FightersGeneration.com for more TEKKEN news.