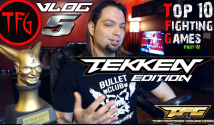 Your host, TFG Webmaster here. I'm happy to announce that my latest Fighters_Gen Vlog is up on TFG's Youtube Channel. TFG Vlog #5 continues my TOP 10 Fighting Games Countdown with a "TEKKEN Edition", filled to the brim with TEKKEN nostalgia, fun facts, stories from the arcade days, and 60fps gameplay captured by yours truly. This one took many many hours of editing, days even... but it's one that true TEKKEN fanatics will fully appreciate. Also, have a great Memorial Day weekend!


I hope everyone enjoys Vlog #5... I'm already planning Vlog #6 and #7. Hope you guys enjoy the random references, late night humor, and... educational value as well.

Don't forget to drop a comment or two! Thanks TFG family. And thanks for the article about this vlog, Shoryuken.com!