(NEW)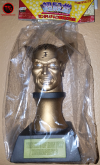 TEKKEN 3 Heihachi Trophy Coin Bank. Made of 24K Gold.
(Just Kidding on that last part.)

(NEW)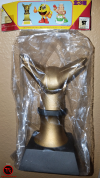 One of the rarest TEKKEN collectibles out there!!! Took me years to find it.
(NEW)


Big and Small TEKKEN Heihachi Trophies? Yes.
(NEW)


(TFG Webmaster)
I AM KING OF THE IRON FIST.... DORIYAAAH!
(NEW)



Current TFG Display Case #1 - 2016. A mix of old and new.
(NEW)


Top Shelf. Small TEKKEN, Virtua Fighter & KOF XIII figures I've posted before... All Together now.
(NEW)


TEKKEN Shelf. TEKKEN 3 Epoch prototypes, coin banks, Asuka statue & Square Enix Play Arts. More pics of these items below.
(NEW)


3rd Shelf. Giant Nakoruru statue. ULTRA RARE "Big Head" mini KOF & Samurai Shodown Figures.
(NEW)



Current TFG Display Case #2 - 2016. Shelf 1. Random Final Fantasy Play Arts.
(NEW)


Shelf 2. Some of my all time favorite fighting game gashapon figures from random franchises.



(NEW)


Shelf 3. Fighting game gashapons with fancy stands.

(NEW)



Another Angle.
(NEW)


Rare TEKKEN 2 Kazuya, Heihachi & Nina coin banks made in 1998.

(NEW)



Cool back of the box variations.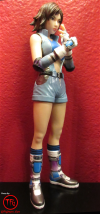 The gang mediator.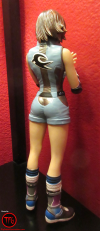 Statue usually runs $70-$80.

Pretty nice quality. Wish they made more of these.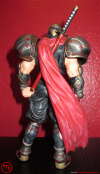 More like a statue, really. Heavy.


One of the best ninja designs ever. EVER. EVER ever.


TBased on this design of Hanzo.


Dual B.B. Hood Statues (made in 2001). Which do you like better? Cute or Evil? >;)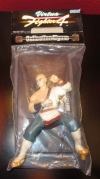 Lei Fei Virtua Fighter 4 Statue.

2P costume! Not even sure if a 1P statue was made.


My entire Virtua Fighter statue collection... so far.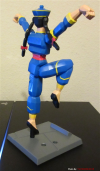 Pai Chan statue is about 7" tall.


Recognize THIS badass? Another IMPOSSIBLY RARE statue. Not sure if I'll ever come across another.


Fighting Vipers Bahn statue (1995).


Front says 1995, back says 1996? Ok Sega... lol.


They certainly look badass together.


Their stands even match perfectly. I wonder how many other statues of this style exist.


Like father like daughter. Martial arts for life.


Betcha didn't know where Bahn learned some of his moves... ;)


A PS4 is kinda like an old School Virtua Fighter ring.
RING OUT!


Bronze Paul is BA-ASS. Jin, Nina and Ling are translucent too.


Them translucent graphics! Eat your heart out Dural.


The guy I got these from said they're one of a kind... I don't believe him.


Lili & Alisa


Lars & Yoshimitsu


The box.


Hadoououken!


Guy never has to do much to look cool.


According to the box, Ingrid is "secret"... lol


Leo... possibly the best looking figure from the set.


Pyron 1P & 2P.


"Samurai Style" Morrigan & Lilith

B.B. Hood's face is just priceless.


Mandatory Jedah close-up.


B.B. Hood / Bulleta statue came with a pouch?! lolz.


Namco X Capcom Morrigan & Lilith Gashapons.


Btw, there are 4 Darkstalkers here.


Yujin Capcom VS SNK 2 Collection
(Complete Set)


God Rugal, Haohmaru & Nakoruru.


Morrigan, Maki & Sakura


Closely based on Kinu Nishimura's CVS2 artwork!


Ohh hey there
Tron Bonne!


Rival Schools girls Gashapons


Close-up of Capcom VS SNK 2
Maki Gashapon!


Reverse view...
Of course.


Based on Kinu Nishimura's amazing CVS2 art!