......
the sixth annual Create-a-Banner Contest was one of the best showings to date, and was definitely a close one... Without further adieu, Here are your winners!!! (Contest ended on July 25th, 2009).






By Alejandro Castillo

Webmaster Comment: Returning from last year's contest, Alejandro Castillo submitted this super sexy (in more ways than one) "News with Morrigan" banner along with several other intricately detailed TFG banners that were unquestionably 'first place' material... Your attention to detail does not go unnoticed, Mr. Castillo. Amazing work, and congratulations!!! CLICK HERE to see other banners by Alejandro!

1st place won: Along with bragging rights, a $30 gift card from Gamestop, a free TFG Membership for 6 months, and an original, personalized artwork from TFG's Featured Artist, Jet3000! Jet will draw any 2 characters of your choice either fighting each other or posing... You also get to choose which medium he uses (pencil, pen, or brush & ink)!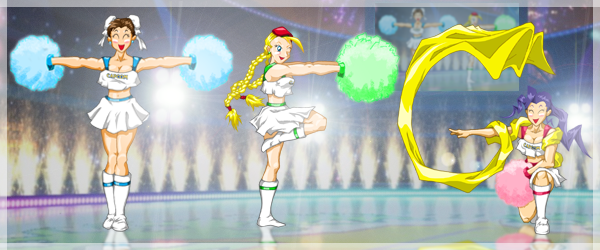 By Mike Song (Eienmic)

Webmaster Comment: The theme of this year's contest was "cool fonts"... And when I came up with this year's theme, I certainly didn't have something like this in mind!!!

Wow... "TFG" never looked quite so sexy... One of the most clever TFG banner designs to date, and some very impressive original artwork! GREAT JOB!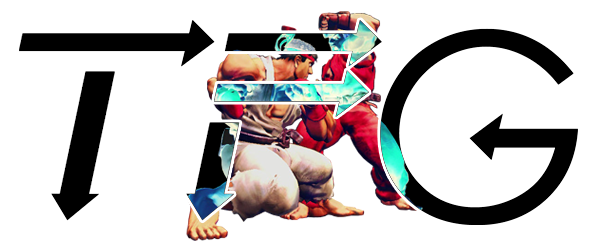 Eienmic's other banner entry, also notably clever... Try that input on your fight stick! ;)

2nd place won: $20 gift card from Gamestop and a free TFG Membership for 4 months!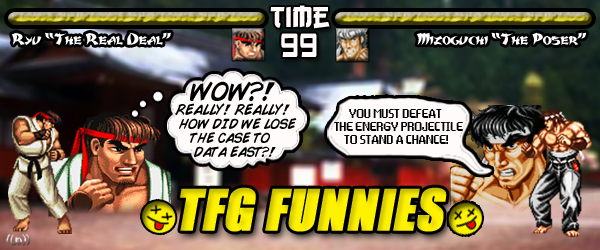 By Derrick Aviles

Webmaster Comment: This banner just cracks me up every time I see it...

And it's so true. Derrick Aviles also created some "more serious" TFG banners which were very nicely designed, but this one takes the cake! CLICK HERE to see other banners by Derrick Aviles!

3rd place won: A mystery prize from the TFG Shop!

---
To see some great banners entered into this year's contest, CLICK HERE... There are certainly no losers here, as many of your banners will proudly be featured on TFG!!!

The Create-a-banner 09' Guidelines:
1. Banners should be no bigger than 600 X 250 pixels! Other than that, any size or shape is acceptable! Smaller and sleeker is usually better though.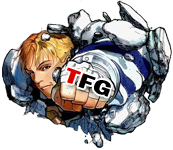 2. Banners can simply say "The Fighter's Generation / TFG," or be themed after any of TFG's sections such as "News, Characters, Features, Videos, Shop, etc," and even for specific pages/features like "Timeline, Separated at Birth, Misheard Special Moves, etc."

Using the the text "TFG" and/or "The Fighter's Generation" is promoted (on all banners) but not required. Also feel free to include the website address on any banner... "FightersGeneration.com"
3. Animated banners are allowed (if you got the skills), just keep the animations relatively short & sweet; and of course, original.


4. The theme of this years contest will be "cool fonts"... Use any (and as many) fighting game characters from any franchise, and photoshop in some sweet special effects, but don't ruin it with a boring old font... Be creative with your text!!!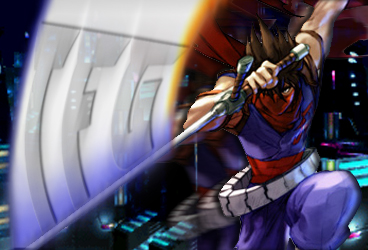 5. There's no limit to how many banners you can enter into the contest... Increase your chances of winning and create as many as you can conjure up! And may the best banner win!!! Your TFG Webmaster will be the ultimate judge of the contest (though I will be taking feedback from others), and will also be supplying the prizes (below)!
.