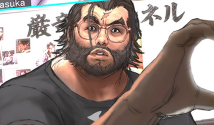 During the reveal of Kunimitsu joining Season 4, Bandai Namco's Katsuhiro Harada and Michael Murray announced TEKKEN 7 has now sold over 6 million copies since its console launch back in 2017. Through the game's widespread success in the competitive scene and at esports events worldwide, TEKKEN 7 far succeeded its original sales expectations — progressively selling more copies in 2018 and 2019. The upward trend has continued this year, and the legendary Takuji Kawano has graced us with another brilliant 2D illustration to celebrate the game's ongoing success. Below, enjoy Kawano's hilariously clever, highly-detailed illustration to celebrate 6 million copies of TEKKEN 7 sold worldwide! (This marks over 50 million sold for the entire series.) As you can see, the Tekken fam also uses Zoom to keep in touch these days.


Just for fun... below is Kawano's previous illustration celebrating 5 million sold.



Keep it here on Fighters Generation for TEKKEN 7 news & content!