Sunday, December 1st, 2019

New Granblue Fantasy Versus Character & Stage Trailers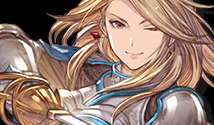 Arc System Works and Cygames recently launched new character trailers for the Granblue Fantasy Versus roster. The new trailers run about a minute and a half, and include some interesting bullet points about each fighter's playstyle. The trailers also use the latest build of the game, which means you'll be seeing the very latest moveset tweaks, along with several brand new stages and background details for fans of the game's beautiful 2.5D aesthetics. Below, check out the new character trailers for Gran, Katalina, Ferry, and Charlotta. The final video is an official preview of the Auguste Isles (Beach) stage featuring Ferry versus Metera.


Check out TFG's previous article for full details on the GBVS Premium Edition.

Stay tuned on Fighters Generation for Granblue Fantasy Versus news & content!

Sources: PlayStation, Sato
Related News: (11-12-2019): Granblue Fantasy Versus Premium Edition Details,
(10-14-2019): Veta & Vaseraga Announced for GBVS, New Artwork,
(9-17-2019): Metera Announced for GBVS, Trailer, Character Art,
(8-3-2019): Granblue Fantasy Versus Release Date, RPG Mode Trailer,
(7-26-2019): Granblue Fantasy Versus Percival Trailer, Screens & Artwork
Related TFG Links: Granblue Fantasy Versus, Gran, Katalina, Ferry, Charlotta, Metera

Visit SHOP TFG to check out
awesome and rare fighting
game items for sale on
FightersGeneration.com!

*NEW ITEMS ADDED*
AUG. 12th, 2019!

✔ FOLLOW FIGHTERSGEN ON: