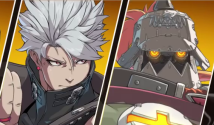 With an exciting new trailer, Arc System Works revealed Chipp Zanuff and Potemkin will be returning in Guilty Gear 2020. Chipp and Potemkin join Sol Badguy, Ky Kiske, May, and Axl Low as the 6 playable characters featured in the upcoming ARCREVO America 2019 demo. A PS4 beta is also planned for Spring 2020! In addition to seeing their updated looks, take a listen to Chipp and Potemkin's theme songs in their reveal trailer (below). Arc System Works also confirmed the final version will have both English and Japanese voiceovers. And for the first time ever, ASW demonstrated the first live gameplay footage of Guilty Gear 2020 on their official livestream! Enjoy over 1 hour of gameplay in the stream archive below.

NEW TRAILER


FIRST GAMEPLAY / STREAM ARCHIVE


[UPDATE] On their official stream, Arc System Works released new details on Guilty Gear 2020's gameplay. The button layout will be the same (Punch, Kick, Slash, Heavy Slash, and Dust), but new inputs will be used for Throws and Dashing. The Roman Cancel system will also be different and "simplified". However, some old style of inputs for certain techniques will still work. Secondly, a PS4 closed beta is planned for release in Spring 2020.

Stay tuned on FightersGeneration.com for Guilty Gear 2020 news.