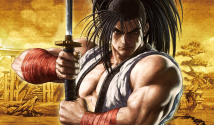 In addition to the "Return of a Legend" trailer and new release date info released today (see previous article), SNK dropped 2 new character introduction trailers... one for series protagonist Haohmaru and one for his eternal rival, Genjuro Kibagami. Both of the new character trailers are only 30 seconds long, but offer a closer look at both characters' attacks and animations.



The PlayStation Store link to pre-order the game is now live HERE. The "pre-order bonus" listed on the site includes the Season Pass and Embrace Death Dynamic Theme.

Stay tuned on FightersGeneration.com for continued coverage of Samurai Shodown.