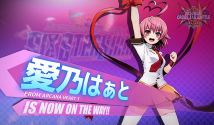 It was announced at EVO Japan that BlazBlue Cross Tag Battle will be getting 4 new characters! The fifth "fate" and new crossover is Arcana Heart, with Heart Aino the first from the series making the jump to BBTAG's roster. Teddie from Persona 4 Arena, Seth from Under Night In-Birth, and Naoto Kurogane from BlazBlue: Central Fiction will also join the roster. Below, check out the reveal trailer for the 4 new challengers, along with new official artwork.


Also teased in the trailer is a sixth "fate" to join BlazBlue Cross Tag Battle... which means we will see yet another crossover for the title in the future.


Arc System Works announced the release window for Naoto, Teddie, and Seth as "Spring 2019" but did not clarify the release date for Heart.


Stay right here on FightersGeneration.com for continued coverage of Arc System Works fighting games.