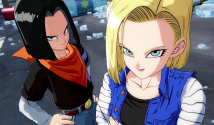 Early this morning, Bandai Namco Europe released a new trailer for Dragon Ball FighterZ for Gamescom 2017 (which kicks off this Wednesday and runs through Saturday). The Gamescom '17 Dragon Ball FighterZ trailer shows off the first gameplay footage of the Androids, Piccolo, Krillin, and gives us a first look at the game's story mode. Additionally, Namco further elaborated on the release window for Dragon Ball Fighter Z (February 2018)! Enjoy the full trailer below.


[UPDATE] If you want a chance to play Dragon Ball FighterZ early, today is the day to sign up for next month's closed beta test. For North American players on Playstation 4 or Xbox One, head over to Bandai Namco's official site to sign up (HERE). European players can sign up for the beta on Playstation's official site (HERE)!

Dragon Ball FighterZ is coming to Playstation 4, Xbox One, and PC in February 2018.