>
POSTED: Sunday, August 19th, 2018 (Aug. 23rd, 2018)

Dead or Alive 6 Hitomi and Lei Fang Screenshots, Character Renders, Gamescom '18 Trailer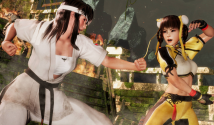 It appears Koei Tecmo has plans to officially reveal returning characters Hitomi and Lei Fang for Dead or Alive 6 at this week's upcoming Gamescom 2018 in Koeln, Germany. High-resolution screenshots of Hitomi and Lei Fang have leaked a bit early, showing the two female fighters battling it out on a new "pirate-themed" stage, called Forbidden Fortune, which features a giant Kraken interrupting the fight. After checking out the new DOA6 screenshots, take a look at the full-quality character renders for Hitomi and Lei Fang, below. [UPDATE] Official gameplay trailer from Koei Tecmo & 12-minute gameplay video from IGN added.


Dead or Alive 6 is currently planned for an "Early 2019" release.

Sources: Koei Tecmo, Gematsu, IGN
Related News: (8-8-2018): DOA6 Gameplay from EVO 2018, Lei Fang & Hitomi Silhouettes,
(8-1-2018): Diego & Rig Revealed for DOA6, New Gameplay,
(6-18-2018): 30+ Minutes of DOA6 Gameplay from E3 2018,
(6-10-2018): 13 Mins of DOA6 E3 2018 Gameplay, New Details,
(6-8-2018): Dead or Alive 6 Announced, Reveal Trailer, Screenshots
Related TFG Links: Dead or Alive 6, Lei Fang, Hitomi

Visit SHOP TFG to check out
awesome and rare fighting
game items for sale on FightersGeneration.com!

*NEW ITEMS ADDED*
SEPT. 16th, 2018!

✔ FOLLOW FIGHTERSGEN ON:





.