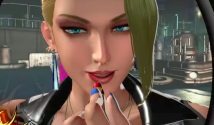 A Youtuber by the name of drawohkan uploaded possibly one of the best King of Fighters XIV Ver 1.10 graphics comparison videos to date. His 7-minute video compares the old graphics with the new Ver. 1.10 graphics during every character's Climax super move. Climax supers contain the best "close-ups" of the character models and the most visual effects, giving viewers a comprehensive look at exactly how much was changed and added in the latest patch.


Related News: The King of Fighters XIV is the first fighting game to fully implement PS4 Pro Support. Check out PS4 Pro screenshots and impressions, along with SNK's official full patch notes in TFG's previous KOF XIV article.

It's unclear whether or not the video (above) is using the fully enhanced PS4 Pro improvements for The King of Fighters XIV.