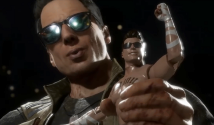 Heeere's Johnny!

NetherRealm Studios has announced Johnny Cage for Mortal Kombat 11, in what might be the best reveal trailer for the game to date. The 3-minute gameplay trailer (below) runs through a wide variety of attacks and special moves from Cage's new moveset. The movie star's martial arts moves and classic green projectiles look impressively impactful, and the "comical" aspect of Johnny's MK11 incarnation is more vibrant than ever. Enjoy the full trailer in 60fps/1080p below!


And here's the archive of today's Kombat Kast, where additional Johnny Cage gameplay was shown. The Johnny Cage gameplay starts at about 27:00.


Stay tuned on FightersGeneration.com for continued coverage of Mortal Kombat 11.