Saturday, March 3rd, 2018

Soul Calibur VI Nightmare Developer Diary Video, 4k Quality Footage Captured by DigitalFoundry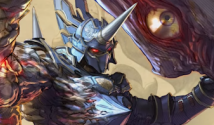 Bandai Namco uploaded a new "Behind The Scenes" Developer Diary Video featuring producer Motohiro Okubo. The latest video in this series revolves around the fan-favorite demon knight, Nightmare. The audio is Japanese on this Youtube video, so you'll have to hit the "CC" option for English subtitles. In addition, Digital Foundry got their hands on an early PC version of Soul Calibur 6 and has uploaded a full 4k-resolution video showing off the game's sharp graphics.


Stay tuned on FightersGeneration.com for continued coverage of Soul Calibur 6.

Sources: Bandai Namco Europe, DigitalFoundry
Related News: (2-22-2018): Ivy & Zasalamel Confirmed for SC6, Trailers, Artwork & Screens,
(2-1-2018): Kilik, Nightmare, Xianghua & Gr

ø

h Revealed for SC6,
(1-8-2018): Soul Calibur 6 All Mechanics Video Analysis,
(12-24-2017): Soul Calibur 6 Sophitia Character Breakdown Video,
(12-19-2017): New SC6 Gameplay, Screenshots & Details,
(12-12-2017): Famitsu Reveals New Details on Soul Calibur 6,
(12-9-2017): Soul Calibur 6 PSX 10-Minutes Gameplay Preview / Producer Interview
Related TFG Links: Soul Calibur VI, Nightmare

Visit SHOP TFG to check out
awesome and rare fighting
game items for sale on FightersGeneration.com!

*NEW ITEMS ADDED*
JAN 9th, 2018!

✔ FOLLOW FIGHTERSGEN ON:





.