Thursday, February 22nd, 2018

Ivy Valentine, Zasalamel Confirmed for Soul Calibur 6, Gameplay Trailers, Artwork & Screenshots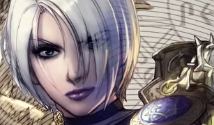 Bandai Namco confirmed two more characters for Soul Calibur VI, those being fan-favorite series veterans, Ivy Valentine and Zasalamel. Check out a full gameplay trailer for each character along with a bunch of HD screenshots and official character artwork, below. Further details and any new information will be added to this article as soon as it becomes available!


Stay tuned on FightersGeneration.com for continued coverage of Soul Calibur 6.

Source: Bandai Namco
Related News: (2-1-2018): Kilik, Nightmare, Xianghua & Gr

ø

h Revealed for SC6,
(1-8-2018): Soul Calibur 6 All Mechanics Video Analysis,
(12-24-2017): Soul Calibur 6 Sophitia Character Breakdown Video,
(12-19-2017): New SC6 Gameplay, Screenshots & Details,
(12-12-2017): Famitsu Reveals New Details on Soul Calibur 6,
(12-9-2017): Soul Calibur 6 PSX 10-Minutes Gameplay Preview / Producer Interview,
(12-7-2017): Soul Calibur 6 Announced, First Details, Screenshots & Trailers
Related TFG Links: Soul Calibur VI, Ivy Valentine, Zasalamel

Visit SHOP TFG to check out
awesome and rare fighting
game items for sale on FightersGeneration.com!

*NEW ITEMS ADDED*
JAN 9th, 2018!

✔ FOLLOW FIGHTERSGEN ON:





.