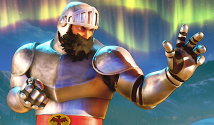 Capcom Unity previewed the next crossover costume coming to Street Fighter V: Arcade Edition, and it's another one that old school Capcom fans will appreciate. Ryu will equip the armor (and epic beard) of Sir Arthur - who debuted in Ghosts 'n Goblins (1985). This crossover costume compliments M. Bison's recently released "Astaroth" skin (as Astaroth is the main antagonist of Ghosts 'n Goblins).


Like past crossover costumes, Ryu's Arthur costume can be earned in-game by completing 4 challenges that take place in the span of a month - one challenge per week. You can head over to Capcom Unity for more details.

Stay tuned on FightersGeneration.com for continued coverage of SFV: Arcade Edition.