>
POSTED: Sunday, August 27th, 2017 (Aug. 28th, 2017)

Fortune Teller Girl Menat Joins Street Fighter V on August 29th, V-Trigger Details, Screenshots & Artwork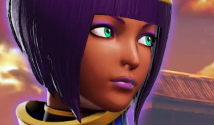 The newest character in the Street Fighter franchise was announced this morning during the SFV finals of the eSports Festival in Hong Kong. First appearing in Ed's Street Fighter V story mode, fortune teller and dancer, Menat, will join SFV's roster on August 29th. Menet appears to take some inspiration from Street Fighter veteran, Rose, along with Viola from Soul Calibur V. She has a V-Reversal teleport, a projectile reflector (like Rose), a Dhalsim-style drill attack, and at least 6 energy orbs which she can summon for devastating combos or zoning attacks. Check out her reveal trailer below. [UPDATE] V-Trigger details, character artwork and screenshots added below!

V-Skill : Soul Reflect - Kamal - Produce a shock wave attack from her soul power. While the crystal sphere is retracted, this lets her reflect the average projectile back at the opponent. If the crystal ball was sent out into battle prior to using her V-Skill, this will absorb the projectile to help build up her v-gauge. This can also be used to launch the opponent into the air to help extend combos.


V-Trigger: Wisdom of Thoth - Menat summons six spheres with her soul power andeach sphere is linked to her normal attacks. Pressing and releasing of a normal attack sends the sphere linked to that attack flying at the opponent.


Critical Art: The Nefertem - Menat sends her crystal sphere to bind her soul power with the opponent to deal devastating damage.

Menat is the second-to-last DLC character in Street Fighter V Season 2. It is speculated that Zeku (Guy's master) might be the final Season 2 character.

Stay tuned on FightersGeneration.com for our continued SFV Season 2 coverage.

Sources: Capcom Unity, Street Fighter (Youtube)
Related News: (8-5-2017): Street Fighter V Figuarts Action Figures Preview,
(7-24-2017): How to Select Shin Akuma in Ultra Street Fighter II,
(7-18-2017): SFV Abigail V-Trigger Details, Movelist, Screens & Introduction Trailer,
(7-16-2017): SFV Abigail Reveal Trailer + First Images, Playable July 25th,
(7-14-2017): Classic Costumes for Alex, Ibuki, Juri + Ryu's SF2 Stage Coming to SFV,
(7-11-2017): Capcom's CFN Portal Returns with SFV Canon Character Concept Art,
(5-9-2016): Ed Revealed for SFV, Reveal Trailer, Screens and V-Trigger Details
Related TFG Links: Street Fighter V, Rose, Viola, Guy, Menat

Visit SHOP TFG to check out
awesome and rare fighting
game items for sale on FightersGeneration.com!

*NEW ITEMS ADDED*
AUG 7th, 2017!

✔FOLLOW FIGHTERS GEN ON:






.