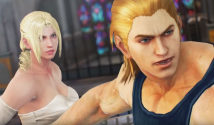 Early this morning, Bandai Namco Japan uploaded a new TEKKEN 7 trailer introducing more characters. TEKKEN 7's official "Character Episode Trailer #2" features King, Jack-7, Steve Fox, Nina Williams, Miguel, Eddy Gordo and Lucky Chloe. The trailer consists primarily of gameplay on new stages, showing off combos along with each character's Rage Art and Rage Drive. More interestingly, the end of the trailer teases some new cinematics for several characters' in-game story.


Stay tuned for future TEKKEN 7 Character Episode Trailers... and don't forget, there are still several empty slots on TEKKEN 7's character selection screen (possibly seven, to be exact). Recent "rumors" suggest new characters could be revealed very close to launch! Stay tuned.

TEKKEN 7 releases on Playstation 4, Xbox One and Steam on June 2nd, 2017.