Friday, May 5th, 2017

Digital Foundry Posts TEKKEN 7 Gameplay Video Using "Master" PS4 Build, Early Graphics Analysis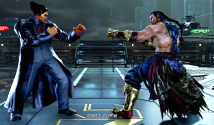 Digital Foundry is known for their graphics comparison and analysis videos on the latest games. Today, they uploaded a TEKKEN 7 gameplay video using the "master" PS4 build. This video is possibly the highest quality TEKKEN 7 video to date, using direct feed footage. Digital Foundry notes the game looks excellent (even on the base PS4 without PS4 Pro enhancements). Graphics junkies will notice big improvements on T7's character models and newer stages - notably with shadows and lighting. TEKKEN 7's VR mode is also shown in this video.


Below are some notes that Digital Foundry pointed out regarding TEKKEN 7's graphics running on base PS4:

The build they used to record in this video runs at 900p/60fps - not 1080p/60fps. Whether or not the graphics will remain at 900p for the final build is unknown. (Harada did mention in a previous Tweet that the PS4 version will run at 1080p/60fps.) As previously reported, TEKKEN 7's graphics quality has been confirmed to be "noticeably enhanced" when using a PS4 Pro system.

They said the game looks "soft" and runs at a consistent 60 frames per second. Their overall impression of the graphics and performance was positive.

A "film grain" is used during parts of TEKKEN 7's story mode.

When using the VR Mode, the graphics quality decreases (like all other VR titles).

✔
Webmaster Comment: I'm very impressed with the graphics so far... There are some notable improvements over earlier PS4 builds we saw from the past couple months. For one, I noticed a massive improvement on Claudio's stage (starting at 9:30 in the video). Character shadows were added to this stage along with floor breaking effects. Characters also appear "larger" on screen than in previous PS4 builds, making the console port look much closer to the arcade version. I hope Digital Foundry does a PS4 / PS4 Pro comparison video for TEKKEN 7 down the road... (Now all they need to do is get some players that actually know how to play TEKKEN. Kazuya has more than 3 moves, guys....)


TEKKEN 7 releases on Playstation 4, Xbox One and Steam on June 2nd, 2017.

Sources: DigitalFoundry, Katsuhiro Harada (Twitter)
Related News: (5-3-2017): TEKKEN X NJPW / Bullet ClublShirts Now Available in North America,
(5-2-2017): May 2017 Tekken Talk with Namco, Markman & Maximilian,
(4-30-2017): TEKKEN 7 Treasure Gameplay w/Jin Kazama TEKKEN 4 Hoodie, Customization,
(4-28-2017): TEKKEN 7 Story Mode Gameplay,
(4-27-2017): TEKKEN 7 Console Version Modes / Story Trailer, New Details,
(4-12-2017): Ultra High-Res TEKKEN 7 Character Renders Added to TFG Gallery,
(4-6-2017): TEKKEN Comic Issue #1 Jin Kazama Cover, Pre-Orders Open,
(3-25-2017): TEKKEN 7 Character Episode Trailer #1, TV Commercial,
(3-16-2016): TEKKEN 7 Post-Launch Content Outlined, 2 New Guest Characters Incoming,
(3-2-2017): Eddy Gordo TEKKEN 7 Reveal Trailer, New Stages Screenshots
Related TFG Links: TEKKEN 7, TEKKEN 7: Fated Retribution

Visit SHOP TFG to check out
awesome and rare fighting
game items for sale on FightersGeneration.com!

*NEW ITEMS ADDED*
MAY 16th, 2017!

✔FOLLOW FIGHTERS GENERATION ON:





.