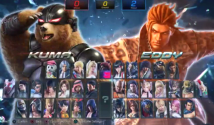 The "TEKKEN Talk" stream for March 2017 took place last night via Twitch. Mark "Markman" Julio was present to debut the newest build of TEKKEN 7, featuring playable Eddy Gordo, Kuma and Panda in gameplay for the first time. Also debuting in gameplay for the first time ever were a bunch of new stages: Geometric Plane, Infinite Azure, Kinder Gym and Arena. In addition, other new stages were selectable but weren't shown off in gameplay yet (these include Brimstone & Fire, Violet Systems and G. Corp Helipad.)

Below are some quick screen-captures of the new stages and playable characters.


Here is the 1-hour long stream archive if you want to check out the new stages & characters in motion! You'll also notice the PS4 version's stage selection system now features animated backgrounds when selecting a stage... Nice touch.


Worth mentioning... During the stream, MarkMan and Dillon Link suggest that they know something about the 2 additional guest characters coming to TEKKEN 7, stating "it's going to be just as hype, if not better" than Akuma's announcement.

Dillon also hinted at some DLC surprises that fans aren't expecting.

Stay tuned on FightersGeneration.com for continued coverage of the upcoming console version of TEKKEN 7. TEKKEN 7 hits Playstation 4, Xbox One and Steam on June 2nd.