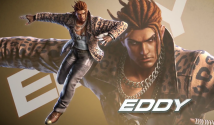 This morning, Bandai Namco released the official TEKKEN 7 reveal trailer for returning series veteran, Eddy Gordo! The Capoiera master shows off his new skills in the latest TEKKEN 7 trailer, which also presents 2 brand new stages (G Corp Helipad & Arena)! Along watching the trailer, scroll further down to check out 12 HD screenshots of Eddy along with his official TEKKEN 7 character artwork.


In addition, here are some screens of the new Arena stage and the G Corp Helipad!

TEKKEN 7 will be released June 2nd, 2017 on Playstation 4, Xbox One and Steam.