Monday, January 30th, 2017

Inside the Development of TEKKEN 7 (IGN Video)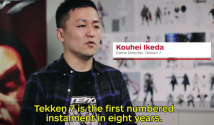 IGN recently visited Bandai Namco's headquarters in Japan to learn how the team is bringing the definitive version of TEKKEN 7 to consoles. The 6-minute video shows some cool behind-the-scenes footage at Bandai Namco and even some in-game developmental footage of Kuma and Eliza. Game Director Kouhei Ikeda and Lead Character Director, Tomoko Odashima, also provide their commentary throughout the video.


Source: IGN
Related News: (1-27-2017): Check Out Some New TEKKEN 7: Fated Retribution Concept Art,
(1-25-2017): Harada Explains TEKKEN 7 Season Pass, 1 Year of Post Launch Support,
(1-25-2017): TEKKEN 7 Eliza Gameplay Reveal Trailer,
(1-23-2017): TEKKEN 7 Story Trailer, Collectors Edition, Release Date, etc.,
(1-3-2017): New TEKKEN 7 Trailer Confirms Bullet Club Shirts & Special King Rage Art,
(12-18-20916): New Build of TEKKEN 7 on Console Shows Updated Select Screen, Lee & Miguel,
(12-14-2016): TEKKEN 7:FR "Kiwami" Update Adds Customs for All Fighters, 70 New Screens,
(12-10-2016): TEKKEN 7 Collaboration with New Japan Pro Wrestling Announced
Related TFG Links: TEKKEN 7, TEKKEN 7: Fated Retribution

Visit SHOP TFG to check out
awesome and rare fighting
game items for sale on FightersGeneration.com!

*NEW ITEMS ADDED*
JAN 9th, 2018!

✔ FOLLOW FIGHTERSGEN ON:





.