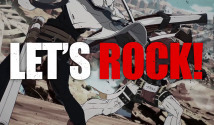 Earlier in the week, Guilty Gear director Daisuke Ishiwatari posted a statement on Twitter regarding the direction of the new Guilty Gear title set for release in 2020. "It is neither evolution nor returning to the roots of the series," he said. "What we're pursuing is a brand new experience"... "a full-frontal confrontation with the essence of the Fighting Game genre," Daisuke continued. Read Daisuke's full statement below.


Below is the EVO 2019 debut trailer for the new Guilty Gear.


Stay tuned on FightersGeneration.com for full coverage of Guilty Gear (2020).