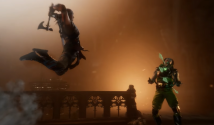 NetherRealm Studios dropped a new gameplay trailer for the next DLC character coming to Mortal Kombat 11, Nightwolf. Wielding his iconic tomahawk, bow & arrow, and a long knife, the returning MK3 veteran brings some familiar special moves and an updated, brutal new fighting style into MK11. Nightwolf's newest incarnation has him accompanied by bear and wolf "spirits" who appear with him prior to battle. They can also be used in gameplay in specific special moves, in addition to the spirit of a hawk. *NSFW violence.


"Early access" to Nightwolf begins August 13th for those who purchased the Kombat Pack. Nightwolf will be available for purchase individually on August 20th.

Stay tuned on FightersGeneration.com for Mortal Kombat 11 news.