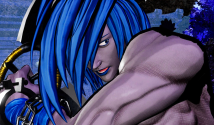 Samurai Shodown (2019)'s first Season Pass is set to reenergize SNK's weapon-based 2D fighting game later this year with new characters and stages. SNK and Famitsu recently shared these high-quality HD screenshots of Season 1's newcomers, including Kazuki Kazama, Shizumaru Hisame, Basara Kubigiri, and Wan-Fu. Several of the screens (below) show the action taking place on some of the upcoming new stages - which will be released alongside the new characters. Once again, Shizumaru will be added to the game this September, followed by Basara and Kazuki in October and November, respectively. Moved up from his original 2020 release date, series veteran Wan-Fu will join the roster this December.


The stage concept above is called "Sumidagawa" (Kazuki's new stage). In addition, check out Shizumaru's official Samurai Shodown (2019) character render below.

In case you missed it earlier, watch the Season 2 announce trailer below.


Stay tuned on FightersGeneration.com for full coverage of Samurai Shodown.