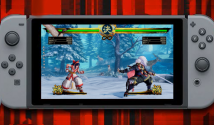 Back in June, 2019's Samurai Shodown reboot launched on PlayStation 4 and Xbox One. Nintendo Switch owners will soon be able to jump into the new Samurai Shodown when the game launches in Japan on December 12th, 2019. With the Switch port arriving soon, SNK dropped a new trailer for the Nintendo Switch version, showing some gameplay on Switch along with some footage of the NEOGEO Pocket Color version of Samurai Shodown 2! - which is an added bonus when purchasing the game (confirmed for Japan only, so far). The release date for the Switch version in the west has yet to be announced (along with the PC / Stadia versions).


Also take a look at the Japanese Collector's Edition and Switch box art by Eisuke Ogura.

Stay tuned on FightersGeneration.com for upcoming Samurai Shodown news.