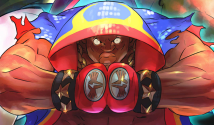 In addition to making Street Fighter V free to download for PS+ subscribers back in September, Capcom is now offering "free trials" for all DLC Season Pass characters this month. How it will work is one Season Pass will be unlocked for each week, starting this Wednesday, October 14th, 2020. If you haven't given a go with every SFV character, now is the perfect time to start your pilgrimage and try out the entire roster. Season 1's Alex, Balrog, Guile, Ibuki, Juri & Urien will be unlocked from October 14th-20th. The following week, Season Pass 2 characters will be unlocked. Take a look at the full schedule below!

FREE CHARACTER TRIALS - FALL 2020
October 14th – Season Pass 1 Characters

Alex, Balrog, Guile, Ibuki, Juri, Urien


October 21st – Season Pass 2 Characters

Akuma, Abigail, Ed, Kolin, Menat, Zeku


October 28th – Season Pass 3 Characters

Blanka, Cody, Falke, G, Sagat, Sakura


November 4th – Season Pass 4 Characters

E. Honda, Gill, Kage, Lucia, Poison, Seth
Below, take another look at Season 5 roadmap. Dan will join SFV in Winter 2020, followed by Rose, Oro, and Akira Kazama from Rival Schools in 2021.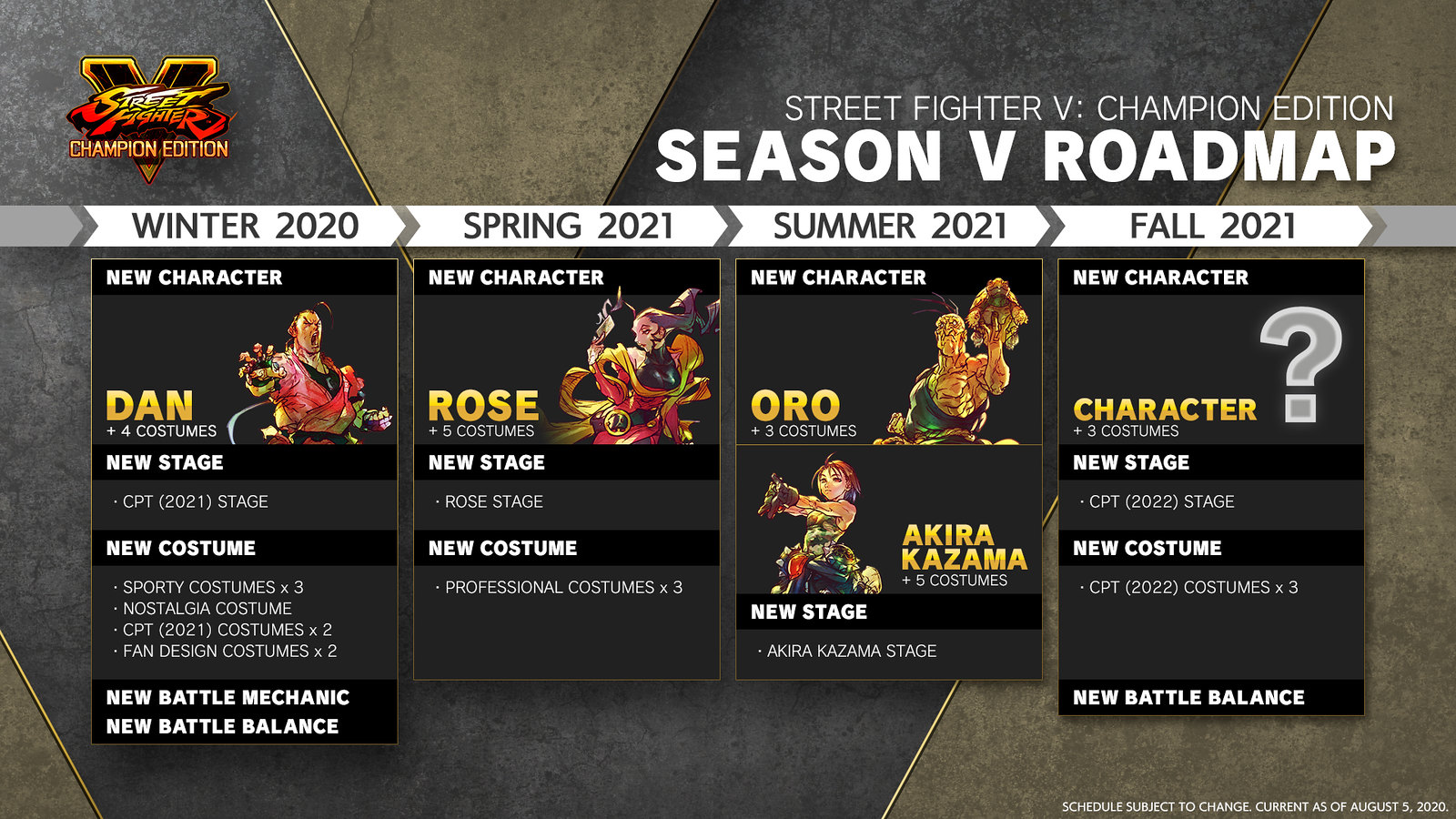 Stay tuned on Fighters Generation for Street Fighter news & content!
Source: Street Fighter (Twitter)
RELATED NEWS | SEPTEMBER 2020
Street Fighter V: Champion Edition Dan Hibiki Gameplay Preview

At TGS 2020, Capcom gave a full demonstration of the next DLC character coming to SFV: Champion Edition, Dan Hibiki. The full 2-minute gameplay preview for Dan runs through Dan's normal attacks, special moves, basic combos, V-Skill, and... Taunts! (Dan has a lot of taunts in SFV with goofy facial expressions to match.) Similar to Sakura, Dan can now charge his Gadoken and send it further across the screen.

Related News: (9-26-2020): Dan Hibiki SFV: Champion Edition Gameplay,
(9-14-2020): Ryu is Getting a SFEX2 / FEXL inspired Karii Costume in SFV,
(9-5-2020): Early Concept Art of Makoto from SFIII: 3rd Strike,
(8-27-2020): SFV: Champion Edition Oro & Rose Concepts,
(8-26-2020): SFV Joins PlayStation Plus in September 2020,
(8-20-2020): Capcom Shares Akira & Rose Concept Sketches,
(8-10-2020): Yoshinori Ono Leaving Capcom After 30 Years,
(8-5-2020): Akira from Rival Schools Coming to SFV with Dan, Rose & Oro
Related TFG Links: SFV: Champion Edition, Street Fighter V | TFG NEWS